Our laboratory equipment at the Triesdorf campus
Weihenstephan-Triesdorf University of Applied Sciences has a large number of different laboratories and test stands in Triesdorf. For example, a well-equipped chemical analysis laboratory can be used. There are currently also testing stations for investigating the thermal conductivity of different insulation materials. One specialises in process engineering, and another specialises in renewable energies and water technology. In addition to both of these, there is also a centre for agricultural technology, which has a mechanical workshop and various measuring and testing technologies for agricultural machinery.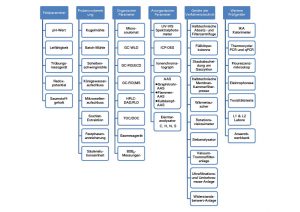 On the left you can see an overview of our laboratory equipment and the associated analysis options.
To enlarge please click on the picture.
Click on the following links for more information about our laboratory equipment and the analysis possibilities offered at the Triesdorf campus:
Biochemistry laboratory
Technology centre (renewable energies and water technology)
Thermodynamics and process engineering laboratory
If you are interested in having an analysis conducted or setting up a testing facility, please contact us! We would be happy to assist you.

Our laboratory equipment at the Ansbach campus
At its site in Ansbach, the Institute of biomass research conducts research into the material and energetic use of biogenic waste. For this purpose, a variety of technical and analytical methods are used in the laboratories of Ansbach University. We are happy to carry out investigations for interested companies within the framework of research collaborations and contracts – please get in touch!
Click here for an overview of all our engineering laboratories and their facilities!
The following technical facilities are used specifically for investigations into the use of biogenic waste. Click on the links below for more information: